R.I. 
Junk Removal

Services & Prices
Get to know the junk removal price in Rhode Island and Massachusetts.
If you need additional information, schedule an on-site quote for FREE.
| Size | Volume | Estimated Price Range |
| --- | --- | --- |
| Minimum Load | Up to 30 cubic ft | $85 - $100 |
| ¼ Load | 80 to 210 cubic ft | $170 - $250 |
| ½ Load | 180 to 240 cubic ft | $325 - $425 |
| ¾ Load | 300 to 360 cubic ft | $500 - $650 |
| Full Load | 420 to 500 cubic ft | $650 - $750 |
Price Includes Labor Of 2 Techs And Your First 2 Hours Free And Disposal Fee And Environmental Fees Included
Junk Hauling
RI Junk Removal is the junk removal company to call in Bristol County, Rhode Island. With  more than a decade of experience, we provide a reliable service for your junk hauling needs. We pride on ourselves in taking a green approach to our work. We're environmentally conscious, reusing, recycling, and donating up to 60% of the junk we collect.  Moreover, we recycle all the mattresses we remove.
Why Call the Professionals
So there's a lot of clutter you would like to get rid of, so why hire professionals to do it for you? You might be wondering if you genuinely need a junk removal company. When there are many things you need to dispose of, we recommend you seek a professional company.
For starters, a junk removal company is very convenient. Sorting everything, loading it in a truck, andtransporting it takes too long. A professional and experienced company has done this several times, making the hauling quicker and more efficient.  Additionally, with our trucks, you won't have to make several trips to get rid of everything. We have different sizes to fit all your junk comfortably.
Finally, you avoid getting injured by hauling large quantities of garbage. You could cut yourself, hurt your back, or trip. Since this is our job, you can rest assured we have the experience to do this safely and efficiently. 
Junk Removal Services We Provide
Mattress Removal: If your mattress is too old and damaged or you no longer use it, it's time to haul it away. Our crew will arrive at your property to efficiently dispose of the mattress taking up space in your home. It's also worth noting that we offer the most competitive junk removal prices in the New England area.
Storage Units Cleanup: If there's a storage unit that has been collecting junk over the years, our team can sort the junk and haul it away.
Recycling: In order to reduce waste, it's important to classify and sort things you're throwing away. Some items can be reused, donated or recycled.
*Pricing includes labor, disposal, and insurance charges
$175 to $650 to fill this truck
$175 to $850 to fill this truck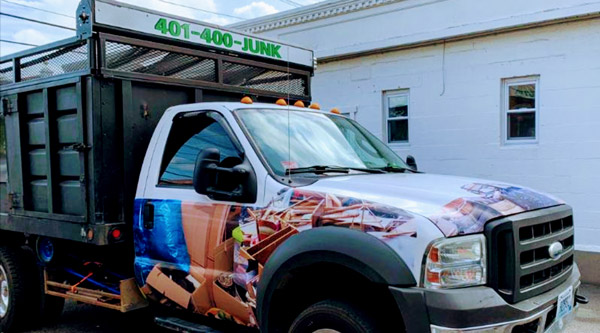 $175 to $600 to fill this truck
* Minimum required $80. Includes labor and disposal.
** Includes labor and disposal
We Serve
Realtors
Property managers
Oversized entertainment centers
Homeowners
Business Owners